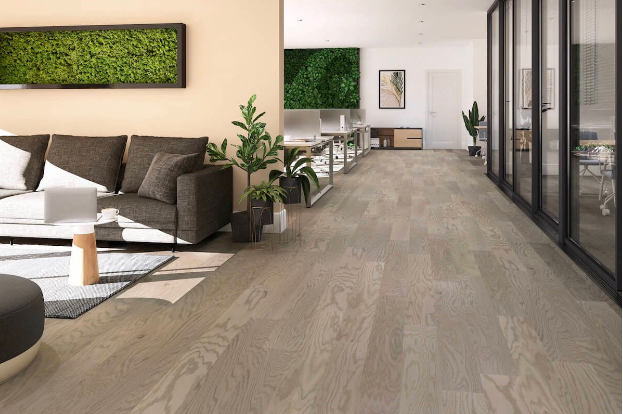 Every commercial space, whether it's a bustling office, a trendy coffee shop, or a sophisticated hotel lobby, requires flooring that matches its aesthetic while providing durability and ease of maintenance. Choosing the right flooring is essential for not only the look and feel of your business but also its functionality and longevity. At Jason's Carpet and Tile, we understand the importance of striking that balance. Here are the top flooring options for commercial spaces:
Vinyl Composite Tile (VCT)
VCT is a popular choice for commercial applications due to its durability and low cost. It's resistant to traffic wear and offers design versatility, with countless colors and patterns available. Moreover, VCT is relatively easy to repair; if one tile gets damaged, you can simply replace it without overhauling the entire floor.
Luxury Vinyl Tile (LVT)
LVT provides the appearance of wood or stone but with the resilience and maintenance ease of vinyl. It's an excellent choice for businesses looking to achieve a luxurious look without the luxurious price tag. Additionally, LVT offers sound-absorbing qualities, making it perfect for open-concept offices or restaurants.
Carpet Tiles
Carpet tiles are an innovative solution for commercial spaces, offering the warmth and comfort of carpet with the convenience of tiles. They're perfect for areas that see a lot of foot traffic. If a section becomes stained or worn, you can replace individual tiles rather than the entire carpet.
Epoxy Flooring
Ideal for industrial settings, epoxy flooring provides a seamless, durable surface. This type of flooring is resistant to chemicals, making it perfect for laboratories, garages, and manufacturing plants. Furthermore, epoxy can be formulated to be slip-resistant, adding an extra layer of safety.
Ceramic and Porcelain Tiles
A timeless choice, ceramic and porcelain tiles exude sophistication. They are incredibly durable and water-resistant, making them ideal for lobbies, bathrooms, and kitchen areas in commercial settings. With a vast range of designs, from rustic to contemporary, these tiles cater to every aesthetic.
Hardwood Flooring
For businesses aiming for a classic, elegant atmosphere, hardwood is unparalleled. Whether it's a law firm, a boutique, or a high-end restaurant, hardwood flooring creates a warm, inviting environment. Though it requires regular maintenance to keep it looking pristine, its beauty often makes the extra care worthwhile.
Laminate
Laminate offers the appearance of hardwood or stone but at a fraction of the price. It's a layered product, with a protective top layer that makes it resistant to stains, scratches, and dents. While not as long-lasting as some other options, its affordability and appearance make it a popular choice for many businesses.
Rubber Flooring
Functional and durable, rubber flooring is slip-resistant and has sound-dampening properties. It's particularly popular in gyms, hospitals, and other spaces that require a combination of safety, hygiene, and durability.
Conclusion
Choosing the right flooring for your commercial space can set the tone for your business and ensure you have a long-lasting, durable surface that meets your needs. At Jason's Carpet and Tile, our team is dedicated to helping you find the perfect match for your space. From the initial consultation to installation, we ensure a seamless experience and a floor that will stand the test of time.
Whatever your business demands, be it aesthetic elegance, rugged durability, or a bit of both, the right flooring can make all the difference. Reach out to us, and let's craft a floor that not only meets but exceeds your expectations.