The Pros and Cons of Engineered Hardwood Flooring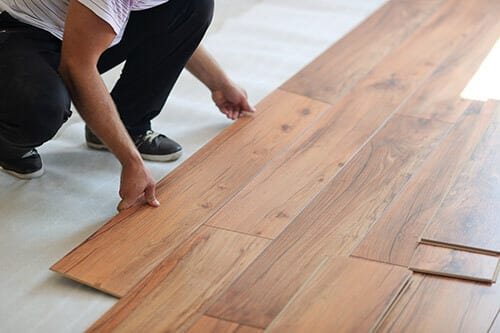 When it comes to flooring options, engineered hardwood is gaining popularity for its blend of natural beauty and practicality. Engineered hardwood flooring combines a real wood surface with a multi-layered core, providing a durable and versatile flooring solution. In this blog post, we will explore the pros and cons of engineered hardwood flooring, helping you make an informed decision for your home or commercial space.

Understanding Engineered Hardwood Flooring
Engineered hardwood flooring is a versatile and popular choice among homeowners. It is constructed using multiple layers of wood, with a top layer of real hardwood and a core of high-density fiberboard or plywood. This construction gives engineered hardwood unique advantages over solid hardwood while maintaining its natural beauty and elegance.
Benefits of Engineered Hardwood Flooring
A few advantages of engineered hardwood flooring are its affordability, adaptability, and durability.
Durability and Stability: Engineered hardwood is designed to withstand moisture and temperature fluctuations better than solid hardwood. Its layered construction minimizes the expansion and contraction commonly associated with changes in humidity, making it an excellent choice for areas prone to moisture, such as basements and bathrooms.
Versatility: Unlike solid hardwood, engineered hardwood can be installed over various subfloors, including concrete slabs and radiant heating systems. This versatility allows you to enjoy the timeless beauty of hardwood flooring throughout your home.
Aesthetic Appeal: Engineered hardwood offers an extensive range of styles, finishes, and species. Whether you prefer the warm tones of oak, the rich hues of walnut, or the contemporary look of bamboo, there is a wide selection available to match your unique taste and complement your interior design.
Environmental Sustainability: At Jason Carpet & Tile, we prioritize sustainability. Engineered hardwood flooring utilizes less natural wood than solid hardwood, making it an eco-friendly choice. We source our engineered hardwood from trusted manufacturers who adhere to sustainable forestry practices, ensuring that your flooring is not only beautiful but also environmentally conscious.
The Cons of Engineered Hardwood Flooring:
Limited Refinishing: Engineered hardwood has a thinner top layer compared to solid hardwood. While it can be refinished, this process has limitations. Depending on the thickness of the top layer, the number of refinishing rounds may be restricted. However, with proper maintenance and care, engineered hardwood flooring can still maintain its appearance for many years.
Cost: It's important to consider the cost factor when choosing engineered hardwood flooring. While it offers numerous advantages, including durability and versatility, it tends to be slightly more expensive than other flooring options, such as laminate or carpet. However, the long-term value and timeless appeal of engineered hardwood make it a worthwhile investment.
Perception: Some individuals may hold the perception that engineered hardwood is not as valuable or authentic as solid hardwood. However, with advancements in technology and manufacturing techniques, engineered hardwood flooring can achieve the same visual appeal and durability as solid hardwood, often at a more affordable price.
How Jason Carpet & Tile Can Help:
At Jason Carpet & Tile, we are committed to providing you with exceptional service and expertise. Here's how we can assist you in choosing and installing your ideal engineered hardwood flooring:
Expertise and Experience: With our extensive knowledge and experience in the flooring industry, we are equipped to answer your questions and guide you towards the best-engineered hardwood options for your specific needs and preferences.


Product Selection: We offer a wide range of high-quality engineered hardwood flooring options from trusted manufacturers. Our selection includes various styles, finishes, and species, ensuring you find the perfect flooring to enhance the beauty of your home.


Professional Installation: Our team of skilled professionals will ensure that your engineered hardwood flooring is installed correctly, maximizing its longevity and performance. We follow industry best practices to deliver impeccable results that exceed your expectations.


Customer Support and Satisfaction: We prioritize your satisfaction and stand behind the quality of our products and services. Our commitment to excellence extends beyond the installation process, with warranties and after-sales support to ensure your ongoing satisfaction with your engineered hardwood flooring.
Engineered hardwood flooring combines the timeless beauty of hardwood with enhanced durability and versatility. With its numerous benefits, including durability, aesthetic appeal, and sustainability, engineered hardwood is an excellent choice for homeowners seeking elegance and practicality.
At Jason Carpet & Tile, we are passionate about flooring and dedicated to helping you find the perfect solution for your space. Contact us today to explore our extensive range of high-quality engineered hardwood flooring options. Trust us to provide expert guidance, professional installation, and unwavering support throughout your flooring journey. Experience the beauty and functionality of engineered hardwood flooring with Jason Carpet & Tile – your flooring expert.