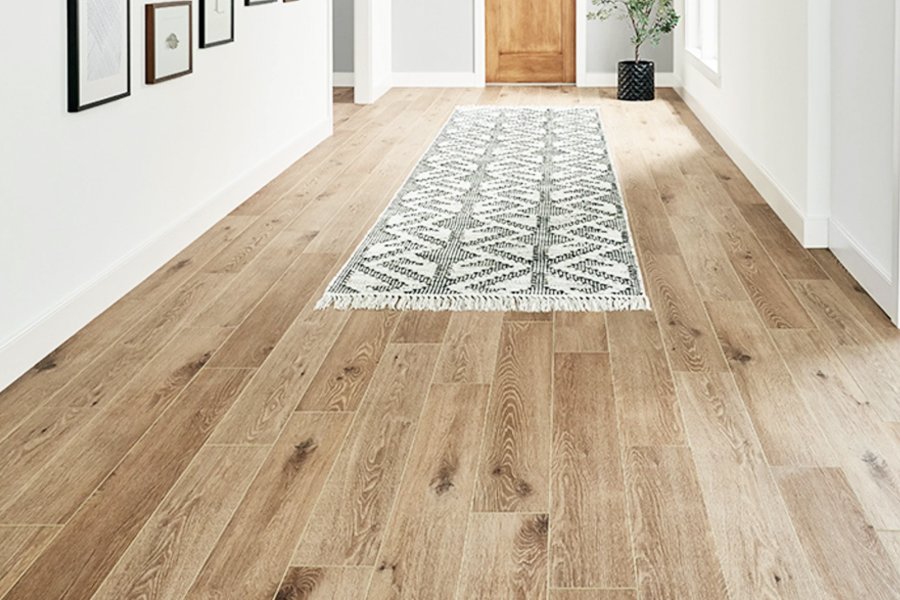 In the dynamic world of flooring, trends come and go, but some innovations prove to be revolutionary. One such game-changer in contemporary flooring is Luxury Vinyl Tile (LVT). Known for its versatility, durability, and aesthetic appeal, LVT is fast becoming a favorite among homeowners and designers alike. At Jason's Carpet and Tile, we've witnessed the rise of LVT and understand the unique benefits it brings. Let's dive in to explore why Luxury Vinyl Tile flooring might be the perfect fit for your space.
Aesthetic Appeal
One of the standout attributes of LVT is its aesthetic versatility. Whether you're in love with the rustic charm of aged wood, the elegance of natural stone, or the sleekness of modern design, LVT offers designs that can mimic almost any natural material with uncanny accuracy. The high-resolution imaging used in LVT production ensures every plank or tile possesses a realistic look and feel.
Durability
LVT is constructed to withstand the everyday challenges of a busy household. Whether it's high foot traffic, playful pets, or energetic kids, LVT stands up to the test. It's resistant to scratches, dents, and stains, ensuring your floor remains as pristine as the day it was installed.
Moisture Resistance
Unlike some traditional flooring options, LVT boasts impressive water resistance. This makes it an ideal choice for moisture-prone areas like bathrooms, kitchens, and basements. No more worrying about water spills or humidity affecting the quality of your floors!
Comfort and Warmth
LVT offers a softer underfoot feel compared to stone or ceramic tiles, providing added comfort for those prolonged standing sessions in the kitchen or workspace. Plus, LVT has excellent insulation properties, ensuring your feet are greeted with a warm touch, even in colder months.
Easy Maintenance
Say goodbye to laborious cleaning routines! LVT is exceptionally easy to maintain. A simple sweep to remove dirt and a damp mop for occasional cleaning is all you need. Its protective wear layer prevents stains and spills from becoming permanent, making clean-up a breeze.
Cost-Effective
While LVT offers a luxurious look, it doesn't come with the hefty price tag of natural materials. This cost-effectiveness, combined with its longevity, provides homeowners with excellent value for their investment.
Installation Flexibility
Thanks to its design, LVT can be installed over many existing floors and requires minimal floor preparation. Whether you're undertaking a complete renovation or a quick room makeover, LVT's flexible installation methods can fit the bill.
Environmental Impact
Modern LVT designs are increasingly focusing on sustainability. With many manufacturers employing recycled materials in production and ensuring their products are recyclable, you can take a step towards green living with LVT.
Sound Absorption
LVT's composition aids in absorbing sound, making your living space quieter. It's especially beneficial in multi-story homes or apartments, ensuring minimal noise transfer between levels.
Versatility for All Spaces
From commercial spaces with high foot traffic to intimate nooks in a residence, LVT's myriad of design options, and durable construction makes it suitable for virtually any setting.
As with any flooring choice, it's essential to consider your specific needs, lifestyle, and design preferences. Luxury Vinyl Tile, with its plethora of benefits, is undoubtedly a compelling option for both modern and traditional homes.
When considering a flooring overhaul or a quick upgrade, ensure you have the best advice and options at your fingertips. At Jason's Carpet and Tile, we pride ourselves on delivering quality, expertise, and a vast range of flooring solutions tailored for every need.
Contemplating LVT for your space? Experience the beauty, practicality, and versatility of Luxury Vinyl Tile flooring at Jason's Carpet and Tile. Visit our website or reach out to our expert team today to explore the world of LVT and how it can transform your home. Let Jason's Carpet and Tile guide you to the perfect flooring solution.