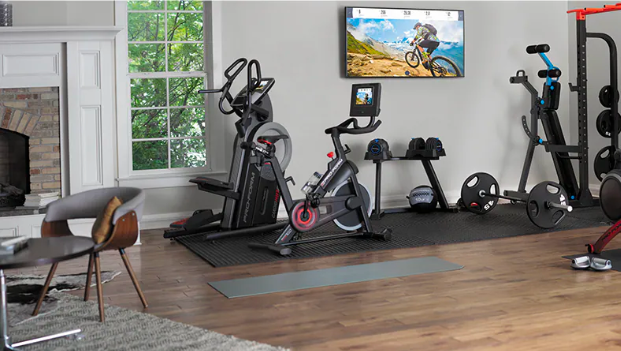 When it comes to setting up a home gym, one of the most critical decisions homeowners face is selecting the right flooring. With various materials, textures, and functionalities available, how do you ensure you're picking the best one? Jason's Carpet and Tile is here to guide you through the process. As South Florida's trusted source for flooring solutions, we understand the unique requirements of home gyms. Here's our comprehensive guide to help you make an informed choice.
Why the Right Flooring Matters
The foundation of any gym, whether commercial or at home, is its flooring. It influences the safety, functionality, comfort, and aesthetics of your workout space. An inappropriate flooring option can lead to accidents, hinder exercise efficiency, and even damage your equipment. So, what factors should you consider?
Shock Absorption: Protect your joints during high-impact exercises.
Durability: Ensure it can withstand heavy equipment and frequent use.
Traction: Prevent slips and accidents.
Maintenance: Easy cleaning and resistance to wear and tear.
Aesthetics: After all, you'll be spending a lot of time here!
Top Flooring Options for Home Gyms
Rubber Flooring: The most popular choice for home gyms, rubber provides excellent shock absorption, resilience, and durability. It's perfect for weightlifting areas, as it can withstand heavy equipment without getting damaged. Jason's Carpet and Tile offers interlocking rubber tiles that are easy to install and can be replaced individually if needed.
Foam Tiles: An economical and lightweight option, foam tiles provide cushioning suitable for yoga, Pilates, and bodyweight exercises. They are water-resistant, making them easy to clean. However, they might not be the best choice if you're placing heavy gym equipment on them.
Vinyl Tiles: Offering a blend of durability, water resistance, and easy maintenance, vinyl tiles are an excellent option for multi-functional gym spaces. They are also aesthetically pleasing, mimicking the look of wood or stone without the associated drawbacks.
Carpet Tiles: Surprisingly, carpet can be an effective home gym flooring, especially if you opt for low-pile, tight-weave designs. They provide cushioning and warmth, making them suitable for floor-based exercises.
Things to Consider
Room Function: Will the space be dedicated solely to exercise, or will it serve multiple functions? This can influence your flooring choice.
Equipment Weight: Heavy equipment can damage certain flooring types. Ensure your choice can handle the weight.
Moisture Resistance: If your workout sessions are intense, consider moisture-resistant options to handle sweat. Also, think about the room's humidity level.
Budget: As with all home projects, it's essential to set a budget. At Jason's Carpet and Tile, we offer a variety of options suitable for all price ranges.
Conclusion
Setting up a home gym is an exciting endeavor. With the right foundation, you can ensure a safe, efficient, and enjoyable workout experience. At Jason's Carpet and Tile, we're dedicated to helping our clients find the best flooring solutions for their needs. Whether it's a full home gym or a small exercise nook, our team will guide you through every step. Visit our website or our showroom to explore our vast range of options and expert advice.